This article is part of a series, Charting a Path Forward for Team USA Handball (2019 Reboot)
A brief diatribe on American and European sports structures
When describing handball in the United States, it is important to consider the context of its audience. Simple terms like club, schools, colleges, intramurals, leagues, tournaments and championships can mean radically different things to a European or an American.
For example, I will never forget a comedic discussion I had with my French basketball teammates regarding what the NCAA basketball tournament was about. This "knockout" tournament is big business in the United States and received little publicity in France since the son, Joakim, of a famous Frenchman, Yannick Noah, played there. Why was this conversation funny? Because I couldn't make a sentence without having to go back down a rabbit hole with further explanation. Here's roughly how it went:
Me: So it's a tournament to determine the national college champion
Teammate 1: What kind of tournament?
Me: Well, it's a tournament where the top 64 teams continue to play each other until there's only one team left.
Teammate 2: Oh, like the Coupe de France.
Me: Well, no, it's just for college teams and it's played over 3 consecutive weekends.
Teammate 3: College teams? Hey, why not the NBA and the 2n/a division below the NBA.
Teammate 4: No, Claude. They don't have divisions in US College, it's their 2n/a division.
Me: Well, sort of, but not exactly. This is our 2n/a better competition, but the players are amateurs and only get scholarships.
Teammate 5: What is a scholarship?
So… I could go on and on and the conversation lasted about 15 more minutes, but it really stretched my French skills. Still, even if I had spoken fluently, it would have been a huge challenge. Also, the funny thing is that since I had lived in France for a few years at that time, I completely understood why they asked all the questions.
It was also telling to me about all the expats I had played handball with in the United States. No wonder they're so confused. Our structures are so different in so many ways and what I've learned is that every culture takes so many things for granted just because… well, that's how it's always been done.
So if you're wondering why the obvious is explained, keep in mind that I'm writing for two different audiences.
United States men's handball team organizations and activities
Training Centres: A Training Center is a place where handball is taught intensively. Two common examples: a European-style academy and what the United States has called residency programs in the past. Currently, there are no handball training centers in the United States, although Chicago's youth program has some elements of an academy, albeit on a smaller scale.
Clubs: There are approximately 40 adult male clubs in the United States. These clubs vary widely in terms of size, organization, and level of play. At one end of the spectrum is the New York City Team Handball Club with dozens of members, most of whom have played in another country before. At the other end of the spectrum, there are maybe around 10 clubs that have maybe 5-10 dedicated players and are struggling to stay afloat. With a few exceptions, American clubs are also just recreational clubs for adults. There are no youth teams that gradually teach more skills as the athletes get older. Adult members take the sport seriously, but practices take place at most once or twice a week with competition limited to weekend tournaments. The only exception to this rule is the North East Team Handball League.
Collegiate Clubs: An important subset of clubs are collegiate clubs affiliated with a college or university. There are approximately 13 men's collegiate clubs in the United States. It's also worth pointing out that collegiate club sports are radically different from NCAA-sanctioned sports. There are no scholarships, and colleges generally only provide high-level support. As the athletes are students, in most cases they are between 18 and 23 years old.
Youth Programs: These programs are comprised of middle school (ages 12-14) and high school (ages 14-18) athletes. There are two fairly well-established programs in the United States, one in San Francisco with around 130 participants and the other in the Chicago area with around 20 participants. The San Francisco program is a scholastic competition while the Chicago program focuses on a single athletic facility.
Other Activities: Team handball is played in physical education classes in hundreds, if not thousands, of schools. But this handball is often only an approximate facsimile of the game, taught by teachers unfamiliar with the sport, for a few lessons and with many rule variations. There are also a number of colleges offering intramural programs. (Intramural sports are lower-level competitions where multiple college teams compete against each other.) Again, the handball being played is often just a facsimile of the game we're all familiar with.
United States Men's Club Demographics (2019 National Championship Snapshot)
Last April and May, the United States held its collegiate and national club championships. Unlike European countries, there is no national league and these championships take place over 3 days only and are open to everyone. 3 Canadian clubs were even present. This table breaks down the total number of participants in these 3 events.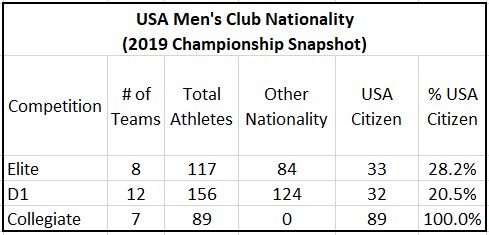 (Note: National Club Championships had 2 separate competitions: Elite and Div 1)
(Note: The citizenship data in these tables relied heavily on names on the list to assess nationality. Such an assessment is surely subject to error because Americans do not always have "American-sounding" names and , conversely, some expats have misleading "American-sounding" names, although I think that's a pretty good guess.)
A few obvious points from these tables.
The majority of our Club Nationals participants are non-US citizens (only 23% of the combined total of Elite/D1 male athletes were US citizens)
The majority of our National Club Championship participants are over 30
An overwhelming majority of our National College Championship entrants are U.S. citizens
An overwhelming majority of our participants in the National Collegiate Championship are under the age of 24.
US Citizen Demographics (Male)
In terms of national team planning, it is of course necessary to focus strictly on the demographics of American citizens. The following tables break down U.S. club citizen representation and add estimates for U.S. expats playing overseas and youth program attendance. These estimates are based on an extrapolation of national league data and national team data. For US-based numbers, I've added athletes based on known clubs that haven't competed in national championships. For overseas numbers, I took the number of expatriate players who played on the Sr, Jr and Youth rosters for the past 10 years or so (60 in total) and doubled that, thinking that this would cautiously account for unknown or lower level players. Anecdotally, I would estimate that the annual total is higher in younger players and drops significantly as players get older. For the most part, I tried to error on the conservative side. The only exception is that I have not supplemented this data with the inclusion of school physical education and college intramural programs.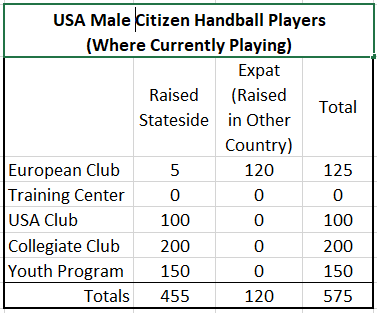 Key points and logical follow-up questions:
Conservatively, there are fewer than 600 American male handball players in the world. (It depends on its semantics, but it's probably less.)

Question: Should USA Team Handball's top priority be to increase this very, very low "total number"?

The demographics of the United States clearly do not follow the traditional pyramid structure often seen with other sports (massive youth participation at the grassroots and professional/national teams at the forefront).

Question: Is not having a pyramid a problem?
Question: How should limited resources be applied at the different levels of this pyramid?

The only level with competition that is structured in a somewhat normal fashion (good age; predominantly American) is our college championships.

Question: Why is there a certain level of success at this level?
Question: Can this achievement be duplicated at other levels of the pyramid? Why or why not?
This is a high-level analysis only. In a future article, I will take a closer look at America's elite player pool and the existing and potential pathways for athletes to enter that pool.